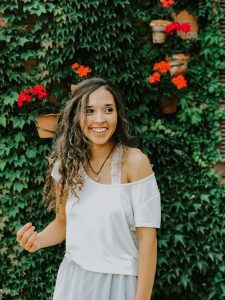 Annelise's Bio | Spanish Speaking therapist
Limited Licensed Professional Counselor and Art Therapist
Going to counseling can be unfamiliar at first, but I strive to provide a safe space and allow clients to go at their own pace. In counseling, the goal is to assist in processing life events, learn coping skills, and deepen self- awareness. Self-awareness allows greater understanding and a better ability to cope with life's journey. In counseling, I always empathize with my client's needs and situations as well as validate and support their well-being. No one has to go through this journey alone, I am here to advocate and assist in empowering your voice.
I have experience working with individuals diagnosed with ADHD, Adjustment Disorders, Anxiety, Autism Spectrum Disorder, Depression, Eating Disorders, emotional regulation and Identification, Family Issues, Grief and Loss, LGBTQ+, School Issues, Self-Esteem, and Trauma. I use an integrated approach catered to the individualized needs of my clients. I can use art therapy, cognitive behavioral therapy (CBT), Mindfulness techniques, and person-centered theories to help my clients support their mental health journey to help build coping skills to add to their daily living for clarity and peace.
Art therapy is a unique approach that can assist all populations—no, you do not have to be an artist to do art therapy, it is all about the process! Art therapy assists in deepening self-awareness, improving self-esteem, empowerment, building resiliency, problem-solving and conflict resolution, emotional processing, enhancing social skills, and encouraging societal change. As a registered art therapist, I guide clients through their creative process using psychological theories to assist in helping solve thoughts and emotions. Art therapy combines cognitive and sensorimotor components to assist in improving overall well-being.
I also offer counseling services in Spanish as a native bilingual speaker.
Treatment Modalities
Art Therapy
Cognitive Behavioral Therapy
Mindfulness
Person Centered
Psychoanalytic/psychodynamic
Populations
Children & Adolescents
Adults
Special Interests
Autism/ Sensory Processing Disorder
ADHD
Anxiety
Depression
Eating Disorders
Grief and Loss
LGBTQIA+
Latino/x Related Issues
Insurances Accepted
Aetna, BCBS, Cigna, Cofinity, Priority, Optum, UMR, United
Contact
Email: nearoar@gmail.com
Phone: (734) 216-4693